Our Board of Directors is comprised of a variety of local activists, organizational leaders, and professionals interested in a wide range of environmental topics throughout the County.
OFFICERS
Michael Wellborn, President

Michael Wellborn is a public policy consultant and retired land use planning manager / Zoning Administrator with the County of Orange. Mike is a graduate of the College of Natural Resources at U.C. Berkeley and is the President of the Friends of Harbors, Beaches and Parks.  He also serves on the Boards of Directors of the California Watershed Network and the Orange County League of Conservation Voters. Throughout the years, he has also been a member of the Housing and Community Development Advisory Board for the City of Fountain Valley, and has served as a Planning Commissioner for the Talega Valley Planning Authority. He was the public co-chair of the California Watershed Council Integrated Planning Workgroup, the co-founder of the Santa Ana Sucker Discussion Group, and helped establish watershed restoration programs throughout Orange County.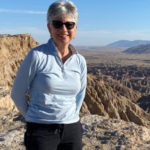 Gloria Sefton, Vice President
Gloria Sefton is a long-time environmental advocate. She is Vice President of Friends of Harbors, Beaches and Parks (FHBP) and co-founder of the Saddleback Canyons Conservancy, established in 2001 to preserve Orange County's rural canyons. Through conservation activism, she has helped protect several hundreds of acres as natural open space in the canyons. Gloria has received environmental leadership awards from the Sierra Club, Orange County League of Conservation Voters, FHBP, Sea & Sage Audubon, and the California State Senate and Assembly. Gloria is a graduate of Whittier Law School (summa cum laude) where she was selected as a Donald G. Hagman Student Scholar in land use law and received awards for merit, leadership, and service. She holds undergraduate degrees from CSUN in Biology and Chemistry, and currently practices law in the life sciences as Vice President, General Counsel at AcuFocus, Inc. She has authored numerous editorials and articles on the environment, land use, and climate change.
Helen Higgins, Secretary-Treasurer
Helen began her call to activism more than 30 years ago, when she joined Animal Welfare Educators in Michigan. After moving to California, she became a docent for Amigos de Bolsa Chica. In addition to her docent field work, she also taught History at docent training classes. Helen joined the board of Friends of Coyote Hills of Fullerton in 2002. She engaged in multiple public outreach and educational events and currently continues to participate in political & legal activities including lawsuits, referendum, and fundraising. In 2005, Helen was elected to the Board of Directors of Friends of Harbors, Beaches and Parks (FHBP) serving as a representative for Friends of Coyote Hills. She was elected Secretary of FHBP in 2012, a position she continues to serve. Helen assists at various events: Earth Day, Great American Write-in, and attends various government and agency hearings on behalf of FHBP and coalition members. Helen retired from her accounting position with Advanced Medical Management in December 2014.
BOARD MEMBERS
Mina Brown was raised in Laguna Canyon, which was the base for her mother Elisabeth's leadership to preserve open space around Laguna Beach. The family spent summers exploring and defending nature in Mono County. In 2020, Mina was appointed to the Laguna Beach Environmental Sustainability Committee, where her priority is to protect the health of Laguna's wildlife until their "island" of open space is connected to the mountains by the Irvine-Laguna Wildlife Corridor. Mina has worked for several small nonprofit organizations in Southern California and Idaho with missions related to public health, affordable housing, historic preservation, conservation, and economic development. While in San Diego, she was involved in regional efforts to reduce food waste and recycle organic material. With a Master in Urban and Regional Planning degree from UC Irvine, she has helped cities, counties, and their residents to plan futures for their neighborhoods, commercial areas, and parks.
Jim Carr
Jim is a Costa Mesa resident and serves as a backup secretary for the Board. Through his volunteer work on the Board, Jim reviews the Board of Supervisors agendas and attends the Orange County Parks Commission meetings each month. In addition to serving on the Friends of Harbors, Beaches, and Parks Board, Jim is a season ticket holder for the Los Angeles Dodgers and Anaheim Angels. Jim earned his journalism B.A from USC. He worked at the Los Angeles Times from 1984 – 2006 at which time he retired.
Jack Eidt
Jack Eidt has been on the Friends of Harbors, Beaches and Parks Board since 2006, is Founder and Publisher of WilderUtopia, an online news magazine dedicated to the question of Earth sustainability, finding society-level solutions to environmental, community, economic, transportation and energy needs. Jack is an award-winning novelist, urban planner, and environmental advocate. In addition to writing regular articles for WilderUtopia, he has published opinion/editorials in various periodicals, including the Los Angeles Times, Orange County Register, EcoWatch, CommonDreams, Voice of OC, LA Progressive, CityWatch LA, and CounterPunch, and has been featured on Pacifica Radio, NPR, and public television. Jack is a co-founder of a local climate change organization called SoCal 350 Climate Action, and serves on the board of the Biodiesel Coop of Los Angeles.
Maureen Gates
Maureen Gates is a long-time Orange County resident by way of upstate New York. She works as a therapist for Los Angeles County, and has worked part-time for REI since 2010. Maureen initially became involved with local environmental advocacy projects while volunteering with the Banning Ranch Conservancy while doing door-to-door meetings with community members to educate them on developers' intent to develop the Banning Ranch property. She holds a Masters in Public Health from the University of Southern California, a Masters of Science in Recreation and Tourism from Cal State East Bay, and a BA in Communications from the University of Albany, and has participated in various public health research projects in Mexico and Panama. Maureen's passions include environmental advocacy, particularly the intersection of climate change and public health, road trips with her beloved German Shepherd, backpacking, and triathlons.
Amy Litton
Amy Litton was elected to the board of Friends of Harbors, Beaches and Parks in 2008 and assists with outreach and the Safe Trails Coalition. She is employed with the City of Irvine's Community Services Department overseeing restoration activities for the "Second Saturdays" land steward program and coordinating Eagle Scout projects. Previously Amy served as a Volunteer Naturalist for the Newport Bay Conservancy, formerly the Newport Bay Naturalists and Friends. She served as Publicity Committee Coordinator and served on the Board of Directors. Before that Amy served as Secretary on the Board of Directors for the California Natural Resources Federation, the California affiliate of the National Wildlife Federation. Amy has been an Orange County resident since 1970 and currently resides in Costa Mesa. She is an avid hiker and backpacker with advanced interests in birding, tracking, Native American resources, native plant gardening, invasive weeds and the preservation of open space.
Theresa Sears
Theresa is a community leader who has been involved in land use, conservation, and regional public benefit issues in Orange County since 1992. Her leadership skills have helped with the following efforts: Barham Ranch (which was threatened by development is now part of Santiago Oaks Park), Sully Miller (where two ill-conceived projects have been stopped), East Orange & Santiago Hills II (the proposed urban sprawl has been reduced and contained), Ridgeline (including a legal victory before the State Supreme Court to uphold planning law & voter rights), Orange County Fairgrounds (now preserved for future generations), and the 301 (h) waiver (which forced OC Sanitation District to stop using the waiver for sewage treatment). As a solutions-oriented activist, her leadership in grass root efforts has supported the public's right to know and petition their government, community engagement, legal remedies, and direct democracy. She joined the Friends of Harbors, Beaches and Parks board in 1999 and has hosted the Quarterly Meetings with the OC Parks Director since 2008.
Tina Thompson Richards
Tina Thompson became involved with park issues as a long time-volunteer at the OC County Zoo, which at the time was suffering from neglect. She credits FHBP with helping it get the attention it needed and now it is thriving. She has been involved in land use issues since 2005, advocating for responsible development in the east OC foothills. She is currently editor of the Foothills Sentry newspaper, serving 43,000 residents in Orange, North Tustin, Villa Park, and the canyons.